Sanctity of Human Life
For 27 years we have been making a difference in Gaston, Lincoln and the greater Piedmont area of NC. Simply, by the grace of God, He has strategically placed us here for such a time as this with a reminder that he will honor them, and they will not be insignificant. This is our time.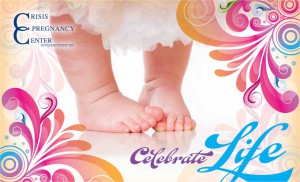 We work with each client on an individual basis to meet their needs so that giving life to their baby is a viable option. We also prevent unwanted pregnancies by training our youth to save sex for marriage and offer healing and forgiveness in Jesus to those already wounded by an abortion in their past. By PARTNERing with us you can help end the tragedy of abortion one life at a time. In 2013, you can make  a difference.
Sept 24 – Oct. 29: Attend volunteer training at CPC.
Our other services:
Abstinence Education
Birds and Bees without Butterflies (parents)
Pure Living (churches)
S.H.A.P.E. (schools)
Adolescent Parenting Program
One on One Mentoring
HelpLine 704-867-3706
Peer counseling; Male counseling
Networking/Referrals
Post Abortion Counseling and Education
Ultrasound
Informed speakers for your church, business or organization.
All of our serves are free because God cares through you.